Detox & Lift Kit LIFTING SEASON
Lifting serum + enzyme peel for improved skin firmness
In a set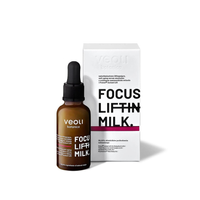 detox and lifting set
LIFTING SEASON
The set includes:
immediately lifting, anti-aging emulsion serum with a plant substitute for retinol and Fision® Instant Lift FOCUS LIFTING MILK
multi-acid enzymatic facial peeling MATCHA POWER PEEL
BENEFITS AND EFFECTS
exfoliation and cleansing of the skin
reduction of discolorations and wrinkles
visible lifting, improvement of skin firmness and elasticity
moisturizing and smoothing the skin
DESCRIPTION MATCHA POWER PEEL
Does your skin need detox? Our MATCHA POWER PEEL multi-acid enzymatic peeling with an active acid complex AHA Phytocomplex 10%, PHA 10%, BHA and powdered, organic matcha green tea from organic tea farms in Japan, is an immediate cleansing in the form of an express mask. You will notice the effects after the first use!
Why can you be sure that our peeling brings spectacular benefits? This is how the acids we use work. AHA Phytocomplex 10%, a composition of natural fruit acids (citric, lactic, tartaric) and bromelain - an enzyme obtained from pineapple, immediately exfoliate, smooth and revitalize the facial skin and effectively remove dead epidermis cells, evening out the color and reducing the visibility of pores.
Do you have a problem with excessive sebum secretion? Thanks to the content of BHA, i.e. salicylic acid, our peeling regulates the activity of the sebaceous glands, has a mattifying effect and reduces skin redness associated with imperfections. Gluconolactone (PHA) 10% effectively reduces discoloration, leaving the skin soothed and silky smooth. Our extremely effective and yet delicate peeling (it is also suitable for sensitive skin!) also includes one of the most popular natural ingredients today - bakuchiol. This plant equivalent of retinol has a detoxifying effect, providing strong antioxidant protection, regenerating the skin, restoring its firmness and radiant appearance.
DESCRIPTION FOCUS LIFTING MILK
The composition of the FOCUS LIFTING MILK serum is based on soy protein hydrolyzate - Fision® Instant Lift 3%, which guarantees an immediate lifting and tightening effect, and on concentrated triple hyaluronic acid 0.3% (ultra-low-molecular, low-molecular and high-molecular), which has the task of intensively moisturize and smooth the skin at all levels. Thanks to us, you get a product that effectively protects your skin against dehydration, stimulating renewal and regeneration, and at the same time makes it elastic and improves its tone.
Check out the amazing effects of the 0.15% bakuchiol contained in our serum, a plant substitute for retinol. It has anti-wrinkle and rejuvenating properties and evens out the skin tone. If you have extremely sensitive and over-reactive skin, it will be soothed by the phytoactive blue daisy extract 2%, which reduces any redness and symptoms of discomfort. In turn, 1% Asian gardenia stem cells stimulate the skin for intensive self-renewal, replenish collagen losses, and protect and regenerate damaged epidermis.
FOR WHOM?
We recommend our set for skin with visible unevenness, discoloration and wrinkles, requiring immediate lifting, improvement of facial contour and color.
Apply a thin layer of MATCHA POWER PEEL peeling to moistened facial skin. Leave it on for 3-5 minutes, and if you have oily skin - for 5-7 minutes, and then wash it off thoroughly with water. Use 2-3 times a week.
Remember to use a cream with SPF when using MATCHA POWER PEEL peeling! Then, apply a few drops of the FOCUS LIFTING MILK serum to the cleansed skin of the face, neck and cleavage. Massage the product starting from the bottom of the face and working upwards. For best results, use the serum in the morning and evening.
Storage method: store the product out of the reach of children, in the original, tightly closed packaging, at room temperature. Protect the product from direct sunlight.
The possibility of allergic reactions to each cosmetic is very individual and depends on the condition of the skin. If you are not sure whether a given product will cause allergic reactions, perform an allergy test before using it for the first time.
Face serum with plant-based Retinol and Fision® Instant Lift FOCUS LIFTING MILK
Enzymatic peeling with AHA Phytocomplex 10%, PHA 10%, BHA - MATCHA POWER PEEL
Frequently Asked Questions