Brightening and color evening set
Antioxidation and even skin tone. GOOD TO C YOU + FOCUS PIGMENTATION ESSENSE + MATCHA POWER PEEL set to combat discoloration
In a set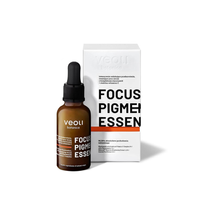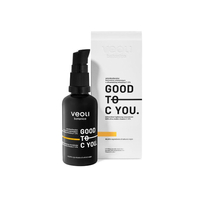 brightening and color evening set
This set includes:
DESCRIPTION AND APPLICATION GOOD TO C YOU
99,06% ingredients of natural origin
Discolorations, uneven skin tone and dull skin are no longer your problem! Using two vitamin C derivatives with the highest effectiveness, stability and bioavailability, we have created a product that will even out and protect your skin.
Active concentrate with a large dose of natural, ultra-stable vitamin C in two of the most modern forms. It not only lightens discolorations, but also prevents their formation. The use of two highest-quality vitamins in high concentrations guarantees hydration and effective antioxidant activity that protects the skin against free radicals and photoaging. Additionally, it supports collagen synthesis, restores skin firmness and elasticity, reducing the visibility of wrinkles.
DESCRIPTION AND APPLICATION OF MATCHA POWER PEEL
97,98% ingredients of natural origin
Does your skin need detox? Our MATCHA POWER PEEL multi-acid enzymatic peeling with an active acid complex AHA Phytocomplex 10%, PHA 10%, BHA and powdered, organic matcha green tea from organic tea farms in Japan, is an immediate cleansing in the form of an express mask. You will notice the effects after the first use!
Why can you be sure that our peeling brings spectacular benefits? This is how the acids we use work. AHA Phytocomplex 10%, a composition of natural fruit acids (citric, lactic, tartaric) and bromelain - an enzyme obtained from pineapple, immediately exfoliate, smooth and revitalize the facial skin and effectively remove dead epidermis cells, evening out the tone and reducing the visibility of pores.
Do you have a problem with excessive sebum secretion? Thanks to the content of BHA, i.e. salicylic acid, our peeling regulates the activity of the sebaceous glands, has a mattifying effect and reduces skin redness associated with imperfections. Gluconolactone (PHA) 10% effectively reduces discoloration, leaving the skin soothed and silky smooth. Our extremely effective and yet delicate peeling (it is also suitable for sensitive skin!) also includes one of the most popular natural ingredients today - bakuchiol. This plant equivalent of retinol has a detoxifying effect, providing strong antioxidant protection, regenerating the skin, restoring its firmness and radiant appearance.
DESCRIPTION AND APPLICATION FOCUS PIGMENTATION ESSENCE
96,06% ingredients of natural origin
FOCUS PIGMENTATION ESSENCE is a composition of balanced active ingredients that precisely respond to the needs of skin struggling with discolorations - sun-related, acne-related and hormonal, as well as imperfections such as blackheads resulting from excessive activity of the sebaceous glands. The substances contained in FOCUS PIGMENTATION ESSENCE perfectly cope with these types of skin problems.
The niacinamide complex with stable vitamin C will provide your skin with a whitening effect, tighten pores and regulate sebum secretion, as well as give it a youthful, radiant glow by visibly brightening it. Additionally, the complex of natural AHA acids 7% (lactic acid, citric acid, tartaric acid) will not only noticeably improve the skin tone, but will also smooth out fine lines and unevenness by gently exfoliating dead epidermis cells.
Experience on your own skin the precious properties of the Punarnava 1.2% root extract growing in the warmest regions of the Himalayas, thanks to which the serum affects pigmentation processes, evens out the color and reduces the visibility of spots. However, 2% organic acerola extract (a rich source of vitamin C) is a plant remedy with a strong antioxidant effect for tired and stressed skin.
DID YOU KNOW?
Vitamin C is one of the most effective antioxidants that neutralize the effects of free radicals. Moreover, it enhances the effect of SPF filters and protects the skin against the negative effects of radiation. Additionally, our POWER MATCH PEEL peeling works after the first application. 100% of people taking part in the laboratory tests ordered by us immediately noticed very good skin refreshment and detoxification.
Ethylated vitamin C (3-O-Ethyl Ascorbic Acid 10%) has the lowest risk of skin irritation.
Ascorbyl tetraisopalmitate 5% is one of the most expensive and effective forms of vitamin C in the world. It is ultrastable - it does not irritate or cause allergies. We combined them to obtain a creamy serum in the form of a concentrate that is phenomenally absorbed into the skin, leaving no sticky layer.
FOR WHOM?
It will be appreciated by all skin types, especially those with discolorations, tired, dull and acne-prone skin.
BENEFITS AND EFFECTS
Immediately: protection against free radicals and photoaging
4 weeks: skin hydration, reduction of discoloration and fine lines
8 weeks: smoothing and restoring the skin's radiance, reducing medium and deep wrinkles
Every morning, we recommend applying GOOD TO C YOU concentrate to the cleansed skin of the face, neck and cleavage. Remembering to use creams with SPF 50.
Once a week, during evening care, apply MATCHA POWER PEEL to cleansed and moistened facial skin. In the case of dry and combination skin, we recommend applying the product for 3-5 minutes, and in the case of oily skin, 5-7 minutes.
On other days, for daily, evening care, we recommend using the FOCUS PIGMENTATION ESSENCE serum.
The possibility of allergic reactions to each cosmetic is very individual and depends on the condition of the skin. If you are not sure whether a given product will cause allergic reactions, perform an allergy test before using it for the first time.
The product should be stored in a dry place, away from light sources, at a temperature of 15 to 25°C.
Triple-acid enzyme facial peel with AHA Phytocomplex 10%, PHA 10%, BHA - MATCHA POWER PEEL
Skin discolouration serum with Niacinamide and vitamin C FOCUS PIGMENTATION ESSENCE
Antioxidant brightening concentrate with ultra-stable vitamin C 15% GOOD TO C YOU
Frequently Asked Questions