Maseczka oczyszczająca z efektem rozświetlającym FEED AND ROLL
Maseczka z efektem rozświetlającym przywracająca naturalną miękkość i delikatność
Buy set
Cleansing mask with illuminating effect FEED AND ROLL
Price of all products without set:

168,00 zł
168,00 zł
142,80 zł

incl. VAT
Lowest price in 30 days before discount:
126,00 zł
Cheaper in the set by 15%
Buy set
BUILD ME UP
maseczka gommage z efektem rozświetlającym
97,6% surowców pochodzenia naturalnego
Czego oczekujesz od swojej ulubionej maseczki? Dogłębnego oczyszczenia, odżywienia, wygładzenia i ukojenia skóry? Mamy to! To nasza maseczka gommage z efektem rozświetlającym FEED AND ROLL. Możesz stosować ją codziennie lub przed wyjątkowymi okazjami. Efekt zawsze będzie WOW!
Maseczka FEED AND ROLL przywraca naturalną miękkość i delikatność. Aktywny ekstrakt z pąków czarnej porzeczki GEMMOCALM® oraz KAOLIN, czyli glinka porcelanowa, rewelacyjnie złagodzą podrażnienia i ukoją skórę - zwłaszcza, jeśli jest ona wyjątkowo wrażliwa. Możesz również liczyć na ochronę skóry przed starzeniem. Dzięki kompleksowi naturalnych ekstraktów owoców, takich jak truskawki, maliny i jagody, wolne rodniki są blokowane, a cera jest skutecznie nawilżona. Maseczka FEED AND ROLL to też doskonały produkt po zabiegach medycyny estetycznej. DERMASOOTH™ - nowoczesny kompleks składający się z tulsi, ostropestu oraz aktywnej frakcji algi Enteromorpha compressa zmniejsza zaczerwienienia, chroni i regeneruje funkcję barierową skóry.
DLA KOGO?
Polecana do wszystkich typów skóry, w tym wrażliwej i skłonnej do podrażnień.
KORZYŚCI I EFEKTY
OCZYSZCZENIE, ODŻYWIENIE I WYGŁADZENIE SKÓRY
EFEKT UKOJENIA
PRZYWRÓCENIE MIĘKKOŚCI I UJĘDRNIENIE
WYRÓWNANIE KOLORYTU 
Maseczka oczyszczająca: Jak ją stosować?
Maseczki oczyszczające są dostępne pod wieloma postaciami. FEED AND ROLL to lekka formuła, która może być stosowana jako uzupełnienie codziennej pielęgnacji twarzy.
Maseczka oczyszczająca jest dedykowana dla każdego typu cery, w szczególności przy cerach problematycznych, takich jak:
cera tłusta,
cera z tendencją do wybłyszczania,
cera z zaskórnikami otwartymi,
cera z tendencjami do nadmiernego rogowacenia,
cera z rozszerzonymi porami.
Jak stosować maseczkę oczyszczającą? Maseczka jest kosmetykiem rekomendowanym do pielęgnacji wieczornej. Przed nałożeniem maseczki należy wykonać dokładny demakijaż i oczyścić skórę z nagromadzonych na jej powierzchni zanieczyszczeń.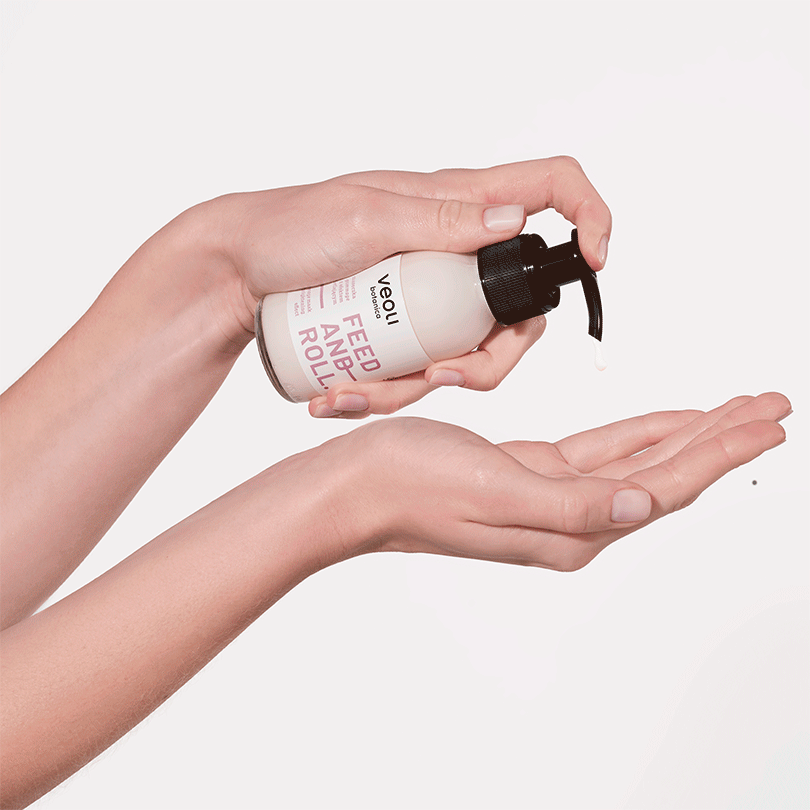 SPOSÓB 1: Nałóż cienką warstwę na oczyszczoną skórę i pozostaw do wchłonięcia. Po 20-25 min. delikatnie zroluj maskę opuszkami palców. Pozostałości zmyj ciepłą wodą.
Domowe SPA: Nałóż grubszą warstwę na twarz i pozostaw na 15 minut. Spłucz wodą, delikatnie osusz skórę i spryskaj ją tonikiem. Stosuj raz lub dwa razy w tygodniu.  
Sposób przechowywania: Przechowuj w miejscu niedostępnym dla dzieci, w oryginalnym, szczelnie zamkniętym opakowaniu, w temperaturze pokojowej. Chroń produkt przed bezpośrednim działaniem słońca. Możliwość reakcji alergicznych na każdy kosmetyk jest bardzo indywidualna i zależna od kondycji skóry. Jeżeli nie jesteś pewna, czy dany produkt będzie Cię uczulał, przed pierwszym użyciem wykonaj próbę uczuleniową.
Czy mogę zostawić maseczkę gommage FEED AND ROLL na całą noc?

Maseczki FEED AND ROLL nie rekomendujemy nakładać na noc. Jest jednak kilka opcji jej użycia: Na specjalne okazje: pozostawić na 5 minut / Superujędrnienie: codziennie przez 8 do 15 dni pozostawić na 5 minut / Domowe SPA: raz lub dwa razy w tygodniu pozostawić na 15 minut.

Czy maseczkę FEED AND ROLL mogą stosować kobiety w ciąży i karmiące?

Jak najbardziej. Zawarte w naszej maseczce składniki są bezpieczne i nie stwarzają żadnego zagrożenia dla kobiet w ciąży oraz karmiących.

Jak długo mogę stosować maseczkę FEED AND ROLL?

Datę przydatności w kosmetykach określa się na dwa sposoby: za pomocą znaku PAO (np. 3 miesiące po otwarciu), lub wskazany jest termin ważności jako data – w naszym przypadku jest podana data (pod spodem kartonika oraz słoiczka). Jednym z badań dopuszczających kosmetyk do obrotu jest tzw. test konserwacji, który określa termin przydatności kosmetyku od daty produkcji. Według przepisów prawa kosmetycznego, kosmetyki, których termin przydatności wynosi do 36 miesięcy (u nas do 24 miesięcy) nie mogą mieć umieszczonego na opakowaniu znaku PAO. Jeśli badanie określa, że kosmetyk nadaje się do zużycia przez np. 1,5 roku od daty produkcji (w tym celu na opakowaniu umieszcza się datę przydatności i jest to obowiązek producenta) to jest to data wiążąca nawet jeśli kosmetyk został otwarty miesiąc po wyprodukowaniu.

Czy maseczkę FEED AND ROLL mogę stosować codziennie?

Tak, maseczka nadaje się do codziennego użytku.
Frequently Asked Questions