BB cream + make-up sponge set GO WITH THE GLOW
A BB cream and ultra-soft sponge set for subtle make-up without the mask effect.
In a set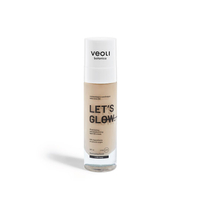 zestaw: rozświetlająco-nawilżający lekki krem BB + gąbeczka do makijażu
Jaki jest najlepszy sposób na uzyskanie nieskazitelnie wyglądającej skóry? Odpowiedni produkt i jego odpowiednia aplikacja. Tak się składa, że idealne do tego produkty znajdziesz w zestawie GO WITH THE GLOW!
Sięgnij po rozświetlająco-nawilżający lekki krem BB LET'S GLOW i wklep go w skórę twarzy za pomocą zwilżonej gąbeczki BLEND THE PERFECTION.
98% składników pochodzenia naturalnego
Rozświetlająco-nawilżający lekki krem BB o czystoskładowej, bezzapachowej formule łączy w sobie właściwości podkładu i pielęgnacyjnego kremu z filtrem, zapewniając możliwość stopniowalnego krycia oraz ochronę przed promieniowaniem UVA i UVB. Jest dedykowany skórze suchej, zmęczonej i pozbawionej blasku. Połączenie pochodnych glukozy zawartych w kremie, poprawia hydrorównowagę w skórze (optymalizując zapasy i zapobiegając utracie wody) i sprawia, że jest ona doskonale odbudowana i nawilżona. Dzięki swojej lekkiej, wtapiającej się w skórę konsystencji nie powoduje uczucia ściągnięcia, nie wchodzi w zmarszczki i załamania oraz nie podkreśla suchych skórek. Jest odpowiedni również dla osób z cerą dojrzałą lub skłonną do niedoskonałości. Nawilża i wygładza skórę, zapewniając jej naturalnie wyglądający efekt "glow".
LET'S GLOW zawiera naturalne pigmenty mineralne zamknięte w otoczce z lecytyny, która jest biochemicznie podobna do budowy skóry. Dzięki temu są one kompatybilne ze skórą i sprawiają, że produkt równomiernie się nakłada oraz zapewnia uczucie gładkości.
CZY WIESZ, ŻE?
Podobnie jak w kremie BB DROP OF PERFECTION użyliśmy filtra mineralnego SPF 20, który tworzy na powierzchni skóry fizyczną barierę odbijającą i rozpraszającą szkodliwe promieniowanie. Chroni zarówno przed promieniowaniem UVB powodującym oparzenia posłoneczne i reakcje alergiczne, jak również przed UVA, które odpowiedzialne jest za fotostarzenie się skóry i zmiany pigmentacyjne. Filtr mineralny jest składnikiem wolnym od okrucieństwa i przyjaznym dla raf koralowych.
DLA KOGO?
Krem BB jest przeznaczony dla skóry normalnej, suchej i dojrzałej.
Dostępny w 6 odcieniach:

1.0 N – Fair – bardzo jasny, neutralny odcień, świetnie sprawdzi się u osób o wyjątkowo jasnej, alabastrowej karnacji.
1.5 N – Ivory – charakteryzuje się jasnym, neutralnym tonem i jest idealny dla osób o jasnej, beżowej karnacji.
2.0 W – Vanilla – lekko beżowy kolor zapewnia nieskazitelne dopasowanie dla osób, u których pomimo jasnej cery, w kolorze karnacji dominują ciepłe barwy.
2.5 N – Beige – jest to kolor o neutralnym tonie, wpadający w odcienie piaskowego beżu, który będzie perfekcyjnie dopasowywał się do cery o średniej karnacji.
3.0 W – Golden Beige – dla lekko ciemniejszej karnacji z dominującym ciepłym tonem. Kolor świetnie podkreśli muśniętą słońcem skórę i jej naturalny, złoty odcień.
4.0 N – Amber – dla skóry o lekko ciemniejszej karnacji. Balans pomiędzy czerwonymi i żółtymi tonami tego koloru pomoże posiadaczkom ciemniejszej cery w podkreśleniu swojej neutralnej karnacji.
ZA CO UWIELBIAMY NASZE BB KREMY:
są w pełni wegańskie
mają czyste składy i nie zawierają silikonów
chronią przed szkodliwym promieniowaniem UV, dzięki filtrom mineralnym SPF 20
dodatkowo mają działanie anti-aging
zawierają mineralne barwniki
ich formuła nie jest tłusta
mają minimalistyczny design
są zapakowane w szkło farmaceutyczne
Wspólnie troszczymy się o środowisko, przyczyniając się do ograniczenia emisji CO2, zużycia energii oraz wody, dlatego krem BB LET'S GLOW został umieszczony w szklanym opakowaniu.
Niewielką ilość kremu nałóż na skórę i wklep równomiernie za pomocą wilgotnej gąbeczki BLEND THE PERFECTION. Jeśli chcesz zbudować krycie, nałóż drugą porcję produktu na pierwszą, jeszcze nieutrwaloną warstwę.
Krem BB najlepiej zmyjesz sięgając po emulgujący olejek do zmywania makijażu i SPF SQUEEZE AN ORANGE.
Sposób przechowywania: produkt przechowuj w miejscu niedostępnym dla dzieci, w oryginalnym, szczelnie zamkniętym opakowaniu, w temperaturze pokojowej. Chroń produkt przed bezpośrednim działaniem słońca.
Możliwość reakcji alergicznych na każdy kosmetyk jest bardzo indywidualna i zależna od kondycji skóry. Jeżeli nie jesteś pewna, czy dany produkt będzie Cię uczulał, przed pierwszym użyciem wykonaj próbę uczuleniową.
LET'S GLOW rozświetlająco-nawilżający krem BB z SPF 20 - 1.5 N Ivory
Blending sponge BLEND THE PERFECTION
Frequently Asked Questions